Vacuum Pre-processing Ultrasonic Deburring and Cleaning System MARS-DB
真空前処理型超音波バリ取り洗浄装置 MARS-DB
Extreme Version of Precision Deburring!
Vacuum Pre-processing Ultrasonic Deburring and Cleaning
For Deburring of Complicated Shape Burrs that deaeration is difficult, and For Deburring of Blind Holes!
Vacuum Ultrasonic Deburring and Cleaning System with Cavitation Enhancement System Attached MARS-DB

The cavitation enhancement system is attached. It is the vacuum pre-processing type ultrasonic cleaning system, which vacuum evacuates the cleaning tank to remove all the air attached to the objective material and then executes cleaning.

 Precision cleaning system for objective materials that cannot easily remove air by immersing into liquid, such as small blind hole, etc.

Circulation filtering system and vacuum deaeration system are integrated.

Cavities are cluster types. Strong ultrasonic cleaning is possible. According to the selected frequency, selection is possible from very strong ultrasonic cleaning to fine and precise ultrasonic cleaning.
Tour for Actual Operation of Ultrasonic Deburring and Cleaning System
By the courtesy of one of our customers, the tour to see the actual using status of Vacuum [Pre-processing] Ultrasonic Deburring and Cleaning System MARS-DB-3600 became possible. Basically, no customer is disclosing the ultrasonic deburring after the delivery. However, many prospective customers are willing to see the actually-operating status of the system. Therefore, by asking certain customers, this tour became available.
However, please note that companies in a same business cannot joint the tour. Upon reception of the request for the tour, Blue Star R&D will send the information of the company name, business category, number of visitors, and desired date and time to the company accepting this tour, and obtain an acceptance. Then, our staff in the Sales Department will guide the tour.
The location will be about five minutes away from Numazu IC by a car, near Numazu National College of Technology. Please contact us if you are interested in this tour.
Basic Specification
Property of taint
Burr after cutting, pressing, and forming (metals, plastics, and composite materials)
Ultrasonic frequency
25KHz~535KHz
General deburring
Objective for general cleaning
50KHz~535KHz
For fine and precise cleaning
Electronic component and semiconductor
Cleaning liquid
Pure water and city water
* Carbon hydride type solution is S-type (improved explosion resistance)
Specification
Item
MARS-DB-2400
MARS-DB-3600
MARS-DB-4800
Basket form (inner dimension)
Width
400mm
500mm
600mm
Depth
300mm
360mm
400mm
Height *1
75mm
75mm
75mm
System main body
System shape
Width (main body only)
1200mm
1400mm
1520mm
Width (including filter and SWBOX)
1396mm
1596mm
1716mm
Depth
1400mm
1500mm
1600mm
Height
1355mm
1455mm
1555mm
Signal tower
1650mm
1650mm
1650mm
Operation height
825mm
825mm
825mm
Ultrasonic tank shape
Width
540mm
660mm
750mm
Depth
390mm
450mm
510mm
Height
150mm
150mm
150mm
Liquid depth *2
75mm
(82.5mm)
75mm
(82.5mm)
75mm
(82.5mm)
Storage tank shape
Width
540mm
660mm
750mm
Depth
100mm
125mm
150mm
Height
400mm
400mm
400mm
Liquid volume
75ℓ
120ℓ
160ℓ
Weight
Liquid empty
350Kg
550Kg
750kg
Liquid full
425Kg
670Kg
910Kg
Ultrasonic
Generator SIRIUS-SuperMulti
25~535KHz
1φ200V 2400W
25~535KHz
1φ200V 3600W
25~535KHz
1φ200V 4800W
Transducer  SIRIUS-SuperMulti
25(50)~535KHz
1W/cm22400W
25(50)~535KHz
1W/cm23600W
25(50)~535KHz
1W/cm24800W
Attachment device
Vacuum pump for the vacuum evacuation of the tank, vacuum pump for deaeration, vacuum deaeration tower, circulation filtering system, heat exchanger (chiller separate installation), Up-down swinging device, others
Power
Electricity
3φ200V 7.5KW
3φ200V 11KW
3φ200V 14KW
*1. The basket height can be changed.
*2. Dimensions in (  ) are the height corresponding to 50 to 535 KHz.
* Check the specification in advance. Modifications and development may have been applied.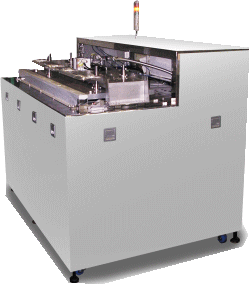 Ultrasonic system for foundry sand cleaner of vehicle engines MARS-EH-14400
Difference between conventional deburring method and ultrasonic deburring and cleaning technology
Click here to see the comparison table.